Moorland Caver (2003)
NGR: SE 512816
Altitude: 250m
Length: 4m
Depth: 10m
Access: Ravenswick Estate
Grade: II
Entertainment value: II
Warning: Care should be taken not to disturb the packs of deads at the bottom of the pot
Small entrance 200m upstream of bridge, to the right of the cliff and 4m up leads to 3m – 4m of stooping passage. This passage leads over the head of the totally choked first pot to the head of the second pot. The head of the second pot is reached via a constriction (best taken head first). Caution is needed as the constriction opens directly onto the top of the pot. The Acrow prop at the head of the pitch should not be trusted. The second pot is circa 9m deep and is free climbable. From the foot of the pot a narrow slot links with the rubbish choked first pot. Two thirds of the way down the pot lies a backfilled rift known as The Conservatory. A further rift at the foot of the pot provides a backdoor into The Conservatory. The bottom of the rift has received considerable attention from diggers. There is a school of thought which suggests that Dowsons may link with the, as yet unentered, subterranean course of Hutton Beck; hence the digging activity.
History
Discovered and explored by Raymond Hayes and a team of local boys in circa 1941.
The pot was pushed by Edgar Dowson (of Dowsons Route fame in Ashberry I (q.v)). Dowsons was dug to its current depth by S.C.C. from 1998 onwards.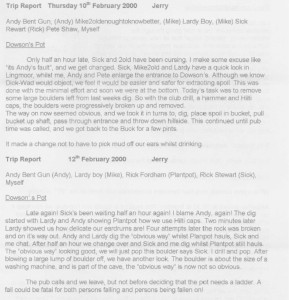 Northern Caves Volume 5 (1974)


Moldywarps Speleological Group – Journal 8 (1976)