Moorland Caver (2003)

Alt:280m
Access:No known restrictions
Grade: I
Entertainment Value: II
3 caves found at the foot of the cliff, in sub-parallel fissures and jumbled boulders.


1. Whitestone Cliff Pot
NGR: SE 507836
Length: 12m
Depth: 15m
The entrance is at the foot of the cliff about
1.5km from the Sutton Bank visitors centre. A steep climb (hand lined) down a sandy slope leads to a small chamber; a tight passage leads off to an intersecting rift, which is only for very thin people.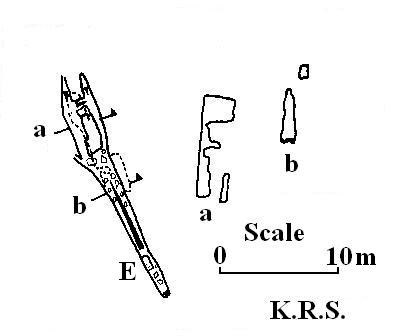 2. Whitestone Cliff Through Cave
NGR: SE 507837
Length: 40m
Depth: 10m
At the foot of the cliff about 25m North of 1.Entrance is a roomy slot at the foot of a 3m climb between fallen boulders. The entrance rift leads to the main fracture, which runs sub-parallel to the cliff face to another exit.

3. Whitestone Cliff Rift
NGR: SE 507838
Length: 30m
Depth: 10m
At the Northern end of the cliff foot is an obvious entrance leading to a sub-parallel fracture. To the right this chokes after 2m. To the left, the rift descends to a loop round a large boulder, which partially blocks the passage. Climbing up enters a high-level passage split in two by some dodgy looking boulders, a further climb up reveals a dog with eyes as big as saucers guarding a chest full of gold coins.
BCRA Transactions – Vol.3 No.2 – The North Yorkshire Windypits (1976)